Kitchen Redemption: From Spiritual Hunger to Second Chances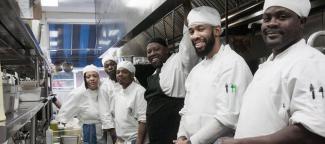 The atmosphere at Edwins is calm and casual three hours before opening for business on a Friday afternoon. Someone has piped hip-hop music through the sound system, a far cry from the soft, ambient tracks that diners will hear later. A bartender inspects glasses while another vacuums the floor and others check that tables are properly set for dinner. Near a fireplace between the bar and the kitchen, a group of young men and women gather with small glasses for a beer tasting.
"Who knows the main ingredients for beer?" the leader of the group asks.
They discuss pairings of craft beer seasonal offerings with current menu items such as artichauts barigoule and ris de veau-poêlé, all of the students eager to learn and grow their knowledge.
The back of house is just as alive, with several men and women chopping green onions, some sautéing flageolet beans, some preparing ingredients for evening specials, and plenty of other kitchen commotion typical before a Friday shift.
Soon the dinner rush is in full force. While Edwins Leadership and Restaurant Institute shares many traits with other restaurants in the Cleveland area, there are noticeable differences too. The restaurant is deliberately overstaffed. And the waiters, hosts, and others, though professional and considerate, are visibly nervous, as they are still getting used to the experience of working in a busy dining room. The restaurant in Cleveland's Shaker Square district features what many would not find out of place in an upscale French restaurant: a contemporary dining room, a well-stocked bar, a state-of-the-art kitchen and even a garden just outside its walls. Edwins is, in fact, a leadership institute giving second chances to ex-offenders who want to learn the job and life skills necessary to provide for themselves and their families.
A Second Chance
The institute was founded by Brandon Chrostowski, who had his own circuitous path to productive society. Shortly after high school, he stood before a judge facing the real likelihood of being thrown into prison for ten or more years. As Chrostowski awaited his fate in the courtroom, he was at the lowest point of his life.
"My soul was malnourished by sinfulness and regret," he reflected years later. "Statistically, I was just another offender."
The judge either saw potential or simply felt merciful that day; he sentenced Chrostowski to one year of probation. During this time, Chrostowski met a Detroit chef who became his teacher and mentor. Chrostowski began to see connections between food and people: "I became fascinated by the rewarding pairing of wine with cheese as I am committed to the pairing of repentant men and women with the healing therapy of the culinary arts."
As well as training Chrostowski in the culinary arts, the chef fed Chrostowski's spiritual hunger. The two men spoke about the Bible and studied passages together. Chrostowski admits that "the more I would pursue that [religious] path, the more things would open up." He worked his way up through the culinary world, cooking in New York City, Chicago and France. He earned two degrees from the Culinary Institute of America. The judge's act of mercy and the chef's willingness and patience to mentor a troubled youth inspired Chrostowski to build Edwins. Ever since he was given his own second chance, he became concerned about ex-cons and those who struggle after prison.
"I got a second chance, so they should as well," Chrostowski says.
Inside the "Teaching Hospital"
According to the 2014 Preliminary Semiannual Uniform Crime Report by the Federal Bureau of Investigation, Cleveland has one of the highest crime rates for a large city, though rates for most violent crimes were down from 2013 to 2014. After many of the city's criminals are sentenced and have served their time in prison, they return to the streets with little hope. Edwins lists the basic needs these individuals lack: goals and structured environment; job skills; availability of skilled jobs; income for housing; a support system; and a stable, supportive community.
The management and training team at Edwins works with these men and women, exchanging challenges for opportunities in one of the most rewarding and growing industries. The organization's mission is "to teach a skilled trade in the culinary arts, empower willing minds through passion for the hospitality industry and prepare students for a successful transition into the world of business professionals."
Edwins Institute was founded in 2007 in New York City where it was incorporated as a 501c3 nonprofit organization. Chrostowski decided to move the institute to Cleveland because of the city's abysmal high school graduation rates, understanding that this is often an indicator of future incarceration rates. The restaurant opened in 2013 and a campus with housing for individuals in transition opened earlier this year.
Edwins is a philanthropic organization, not a restaurant. It is a nonprofit that serves the community of Cleveland by providing mentorship, training, and support for individuals who desperately need it. That being said, the food, service and atmosphere in Edwins's dining room are better than many similar restaurants. Former criminals learning how to seat and serve large groups or how to make a perfect reduction sauce gain real, noticeable skills. The quality and taste of the food is phenomenal — you'd think it was prepared by four-star chefs, not ex-offenders finding their way in the culinary world.
Everyone working the front of house has a clear, defined task. One keeps an eye on guests' bread baskets, another refills water glasses. Servers wait on only one or two tables, focusing their attention on a manageable number of people. Giving students specific tasks and letting them master individual projects benefits not only these men and women who are eager to learn new life skills but also the guests who are hungry for great food and a nice atmosphere.
Anyone who has served jail time is eligible to apply for the program at Edwins. The entire training course is free, and once they start working in the restaurant, students receive a biweekly stipend. The curriculum is based on the courses Chrostowski took at the Culinary Institute of America, and it's not easy. It's six months of hard work as students spend long hours learning new skills, one after another. After in-class training, students start working at the restaurant. They rotate among the various jobs, both in the front of house where they interact with guests and in the back of house where they prep food.
The training has been compared to a "teaching hospital." Students get real-world experience and are surrounded by mentors and teachers. Chrostowski himself is on the floor (at least he was the night I was there). When he wasn't greeting customers and checking on the quality of the food, he was helping servers, preparing complicated dishes at guests' tables, while running between the dining room and the kitchen.
Toward a Fair Future
After six months, students must leave the Edwins program, but they stay close with their former teachers and mentors. The recidivism rate is zero percent. At the time of my interview at Edwins, there were 89 graduates, 98 percent were employed and no one had gone back to prison. Chrostowksi did clarify that some students had fallen on hard times.
"Now people have gotten back into addiction," he said. "But we stick by their side. We make sure they can get on a better path, and we always support them. Some people might violate probation and get thrown back in jail for 30 days, but we go visit them and say, 'Hey, man. Here are some books. When you come out, we're here.'"
More than 35 local restaurants eagerly await classes to finish so they can hire graduates, giving these men and women the option to work where they want. Edwins has won financial support from local churches, clergy members and other religious individuals, but the organization itself is not a ministry. When Chrostowski envisioned Edwins, he wanted it to be a center for life skills, not a place where certain beliefs are stipulated— even his own. "I have a personal faith that guides," Chrostowski explains, "and the desire for a better tomorrow. That's the guiding light, but I don't cross any of that here at Edwins."
The bottom line, he says, is "about getting someone from where they are to where they want to be in the quickest way possible."
Many individuals from diverse cultural and religious backgrounds go through the prison system and find themselves in need of job skills. Chrowstowksi notes that "there are lot of Muslims in prison, and at the end of the day, we want to be a resource for everyone, regardless of their beliefs." The Edwins team focuses on giving ex-convicts the foundation needed to take care of themselves and their families with no strings attached.
He sums it up this way: "Every human being, regardless of their past, has the right to a fair and equal future."
Originally published in Religion & Liberty
Image credit: Edwins