The Legacy of Missionary Banking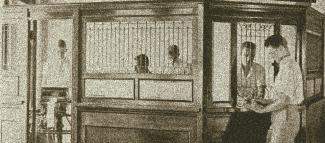 By Chris Horst
Are banking and charity incongruent?
I hope not, because I've invested my career in an organization that believes they are congruent. The prevailing public opinion, though, is that they are indeed incongruent. We believe, if anything, banking victimizes vulnerable people. From the subprime mortgage crisis to the Indian microfinance bubble to the payday loan industry, can banks really be about the business of doing good?
John Cheverus thought so. Because of this belief, he founded the very first savings bank in America. He registered the bank in Boston in 1816. Underscoring the heart of his bank, he named it Provident Institution for Savings. Cheverus and his philanthropist friends believed providing access to savings and loans was an essential need for people living in poverty in Boston two hundred years ago.
They launched Provident as a "benevolent institution" with the mission to "simply to provide a place where the poor may deposit their small savings, and be allowed to receive interest, with liberty also to withdraw the whole or any part of their deposit whenever they may desire it."
Cheverus  was an interesting character; a Catholic priest and a community activist. He was a Frenchman by origin, but answered the call to come and serve as a priest in Boston. While in Boston, he undertook "every form of missionary activity." He lived among the Native Americans and learned their language. He nursed the sick and dying during two Yellow Fever epidemics. He was one of the most well-known religious figures of his era. At a state banquet with President John Adams, Cheverus was seated next to Adams as the guest of honor. And, he was named the first Bishop of Boston.
It was out of his deep concern for his parishioners, for the vulnerable in Boston, Cheverus challenged several prominent Boston philanthropists to create a safe place for the working class to save their money. Together, the founded Provident Institution to accomplish that purpose.
Bishop John wasn't doing something entirely new, but rather continuing in a long line of missionaries who believed in the importance of banking. In the 1500s, Franciscan monks provided low-interest loans to poor peasant families throughout Europe. In 1514, even Pope Julius II gave an edict endorsing these institutions, which were the lifeblood of poor European peasants.
Over time, however, the mission of these nonprofit banks—which devolved into what we now call pawn shops—began to change. But at their genesis, these pawn shops served an incredibly valuable purpose to people living on the edge of disaster. They brought financial security, increased their relational trust in their community, and allowed the Church to meaningfully minister to her neighbors.
A few hundred years later, in the late 1700s, Hannah More continued this legacy. More was a contemporary of William Wilberforce and a member of the Clapham Sect, a group of influential Christians in London who famously helped to stop the British slave trade. More was the literary genius of the group and played a huge role in that movement.
But More also played a significant role among the disadvantaged communities where she served. In her biography of More, Karen Swallow Prior profiles how More served her community by establishing banking cooperatives among women who were excluded from the banks. These banking clubs allowed women to save small amounts of money each quarter safely with a larger group. Then, if one of the members of the club lost her job or contracted an illness, she received a payment from the group to help her cope.
In India, just a few decades later in the early 1800s, William Carey—who many consider to be the father of the modern-day missions movement—created  savings banks to help farmers who were struggling to get by. He actively campaigned against loan sharks and moneylenders who were victimizing these farmers with punitive interest rates by creating a safe and reliable place for them to borrow and save. Historians believe Carey was the first person in India to register a formal savings bank.
Bishop John Cheverus, Franciscan monks, Hannah More, and William Carey all understood the critical importance of having honest, reliable, and secure access to both borrow and save money. What was true in 1500 and 1700 and 1816 is true now. When bankers work in the spirit of these industry forbearers, they continue this important legacy into communities and countries where it is just as critically needed.
Originally published at smorgasblurb