How Team Z Says 'Yes' to the Economy of Love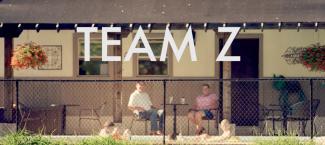 By Joseph Sunde
What does it mean to say "yes" to the family?
In Episode 2, we see a prime example through the Zwyghuizen family (otherwise known as "Team Z"). For Team Z, it means something as simple as loving, encouraging, and blessing each other each and every day — and not just a standalone family.
As the episode concludes, saying "yes" to the family happens not in "grand gestures to save the world," but in the mundane, everyday struggle to love and serve. The family is the school of love, as Herman Bavinck puts it. It's where we learn the fundamental arc and aim of God's design for creation, and those lessons come slow and steady through an intimate cycle of sacrifice and nurture and grace.
For Team Z, instilling and distilling that ethic meant creating a family business card, detailing not just their names and roles, but the mission of the family itself. It may seem silly or trivial, but by inscribing their shared purpose, the family became grounded not just as an internal unit, but as a gift-giving enterprise for the life of the world.
FLOW briefly mentions the example of Greta, the daughter, who started a non-profit to take the next step of this family mission. The following video outlines those efforts in more detail, further demonstrating one of the many ways their family offers their gifts in tangible ways:
20 Liters – Walk for Water from FLUO on Vimeo.
For Edward (the father) it all boils down to a central question:
"What are we doing as a family that is also blessing someone else at the same time?"
This isn't to say we need to do something like start a non-profit to build a family that's in harmony with God's oikonomia. Such fruits come naturally from a more basic embrace of the God's basic design for the family and its reorientation for the glory of God.
If we do that in the small and the mundane– striving to love, encourage, and bless our families and the communities they inhabit – the spectacular and miraculous will follow along just fine.
For the Life of the World Episode 2 : The Economy of Love – Trailer from Flannel Staff on Vimeo.