The Shepherd Motif: Gregory Thornbury on Cain, Abel, and Culture-Making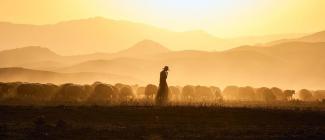 By Joseph Sunde
"It needs to be our job to envision a different future for the church in which we teach our young people to compete in the arena and be so excellent that they cannot be denied — to be shepherds." -Gregory Thornbury
In a recent lecture at the ERLC's 2016 National Conference, Gregory Thornbury, President of King's College in New York City, challenges the church to "stop talking about culture and engaging culture" and begin sending competitors into the "heart of the arena," whether in finance, business, the arts, politics, or otherwise.
"I am concerned that the rightful teaching of grace in our churches may be producing a slacker generation that will damage our witness in culture for coming generations," Thornbury says. "We need to recover the work ethic that made the people of God who they were in every cultural situation."
That ethic, Thornbury continues, can be spotted in the shepherd motif of the Biblical story, beginning with the story of Cain and Abel. While Cain simply accepts the curse on the ground, operating cynically from the scarcity of a fallen world, Abel "understands that the human being is created in the image of God and part of the cultural mandate is to subdue the earth." Cain toils, but Abel deploys. 
From the latter, the arc of the story of God's people only begins:
It is not by any mistake that for the rest of the Bible the shepherd motif becomes the key understanding for what it means to truly be a leader amongst the people of God, beginning with Abel, Abraham, Isaac, Jacob, all of the patriarchs. King David understands what it means to be a shepherd. He sends the sheep out. He deploys them, and it gives him time to do other more creative things like write poetry and write music…
And it's all surrounded by this concept that we are kings. We are lords of the world. And this is what sets the Jewish people apart amongst all of the other people and nations of the world. The other pagan, ancient, Canaanite cultures all had a servile attitude, a Cain-like attitude. They were just accepting their fate. "We are slaves. We bow down and listen to what some chieftain or suzerain or potentate or king tells us to do." Not so with the Jewish people.
You are to be shepherds. You are to control your environment. And so it's no mistake that we call our Lord Jesus Christ our Great Shepherd…We are his sheep, the people of his pasture, and we are doing the job for him.
For more, see Thornbury's plenary talk at Acton University, which gives a range of examples of how Christians might operate and compete more boldly and faithfully in our "post-reality" context.
Originally published at the Acton PowerBlog