Exiles in Northern California – A Testimony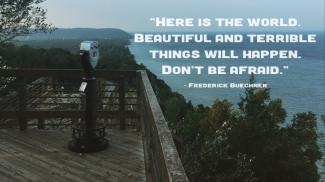 Our latest letter comes from Ava and Dan in Northern California. It actually comes from two letters they sent that I've edit together. Ava and Dan and their home group truly are "lights in a dark and hurting, but beautiful world."
Thank you Ava, Dan, and the rest of you all! Your commitment to one another and your community is impacting so many.
Here's their letter:
Hi there,
My name is Ava. My husband Dan and I have led a home group for over 10 years. Our group has grown together as a group that is true community, caring for one another and for others outside of group. We have studied the Word together, watched many video series, read a few books together and most recently we have completed your series "FOR THE LIFE OF THE WORLD." It has been a blessing and a boundary stretcher for many of us.
We celebrated our last night of your wonderful video series by setting free lighted balloons with statements of faith and fun faces, up and out to our city. They were a proclamation of our lives as gift-givers and lights in a dark and hurting, but beautiful world.
You have shared the gospel in a new fresh and very real way! Our lives have been touched, we have been encouraged to continue joining God in what He is doing around us, as part of the body of Christ. We hear the melody of unity, harmony, and love. We have been blessed and we will share the blessing with others.
The approach of the series has been fun, we all love Evan, but it has also been deep for us. For some, like me, I kinda don't feel smart enough to grasp all that is stated. Yet I like being challenged with the thought process. Dan and I have had the opportunity to watch the videos more than once. We also want to approach our church leadership and see if they would be interested in us offering to share it with the church as a whole. We will see where that goes. The economy of wonder has begun, who knows unless you take time to see and behold.
May your collaboration of creative works continue on to touch many lives.